LEARN FAST WITH HIGH-INTENSITY ONE-ON-ONE BOXING TRAINING
"WITH HAMBURG'S TOP-RATED PERSONAL TRAINER FOR BOXING, FITNESS AND COMBAT SPORTS
Fighting, Fun & Fitness!
PERSONAL TRAINING FOR COMBAT SPORTS ENTHUSIASTS
Are you looking for an effective antidote to your stressful working day? Do you want to learn to box, get super fit and achieve results fast?
As a licensed trainer for combat sports and fitness with a wealth of experience going back decades, I offer a huge repertoire of training methods and perfect training conditions to have you in peak condition in no time!
★★★★★ "I've been training with Zeki for several months now. In every training session, he manages to combine a great mixture of high-intensity fitness training and a considerable amount of boxing with various techniques.
He has a great sense of humour, and during the training sessions pays special attention to the individual abilities of each participant.
Awesome stuff! Can't wait for our next session!"
★★★★★ ★★★★★ "Dear Zeki, as you know I've been training with you for a while now and I love it! It is impressive how you manage to keep an eye on everyone despite us being a group. I would also like to mention how good and at the same time important your personal and individual advice is. It's really helped me to improve my skills. I still have a long way to go, which is why I will keep training with you.
Keep doing what you do, Zeki! Together we will get the results we want. See you on Tuesday ;)"

★★★★★ "Zeki is an incredibly motivating and effective trainer. His awesome sense of humour keeps the workout entertaining, but he knows when to get serious to push me to go the extra mile. He has a great eye for detail and technique and ensures that I'm always improving. I love his challenging and diversified workouts and look forward to many more to come!"
*20% DISCOUNT ON YOUR TASTER SESSION
As a highly experienced trainer and a regular fixture at one of the largest combat sports schools in Germany, I provide perfect training conditions and professional equipment in an area spanning more than 2000 m². Above all, you can expect a personal trainer who loves sport and being a trainer more than anything else. Do you prefer the idea of boxing training outdoors or at home? No problem at all! I'll bring all the gear we need to turn your living room or the nearest park into a boxing gym!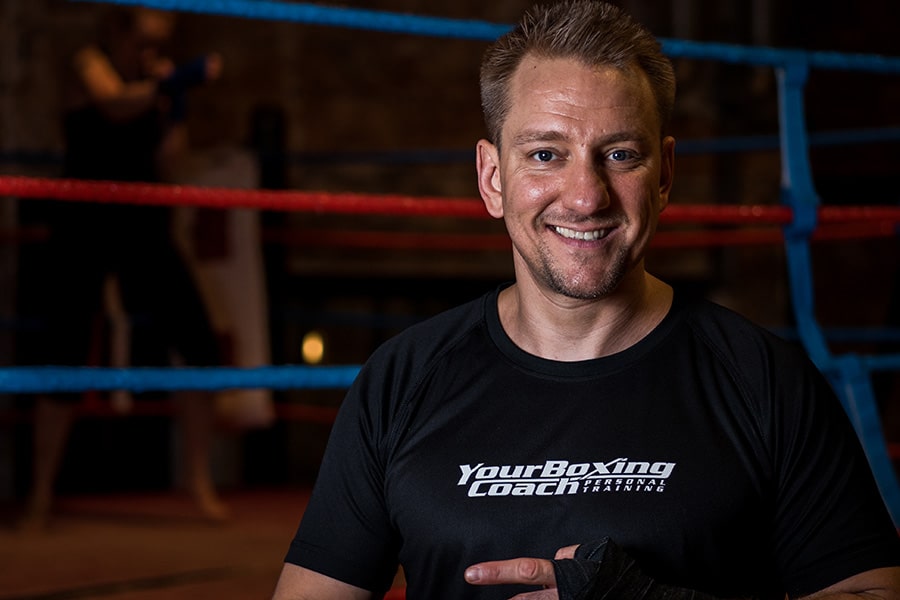 25 years of expertise in active combat sports
Core areas of expertise: boxing, K-1 kickboxing & Muay Thai
Accredited coaching qualifications and licences in combat sports and sports science
More than 13 years' experience as a group trainer and personal trainer
Krav Maga licence & street defence background
Brazilian jiu-jitsu
Perfect training conditions and professional equipment
Group sessions for businesses and school classes
Inexhaustible repertoire of professional training methods
Tons of motivation to reach your goals
Experienced coach for functional training, equipment training, core training, mobility training, kettlebell and TRX
WHEN IS PERSONAL TRAINING RECOMMENDED?
Have you been wanting to try boxing training or learn kickboxing for a long time? Are you an active athlete looking for a varied new way to exert yourself? Are you an active martial artist and would like to raise your skills to a new level through professional focus mitt training? Do you often feel uneasy on your way home of an evening and would like to learn how to defend yourself effectively? Perhaps you want to lose weight and increase mobility because your monotonous work routine ties you to your office chair?
If you answered Yes! to any of these questions, then it's time to book a discounted boxing training session to get to know your boxing personal trainer!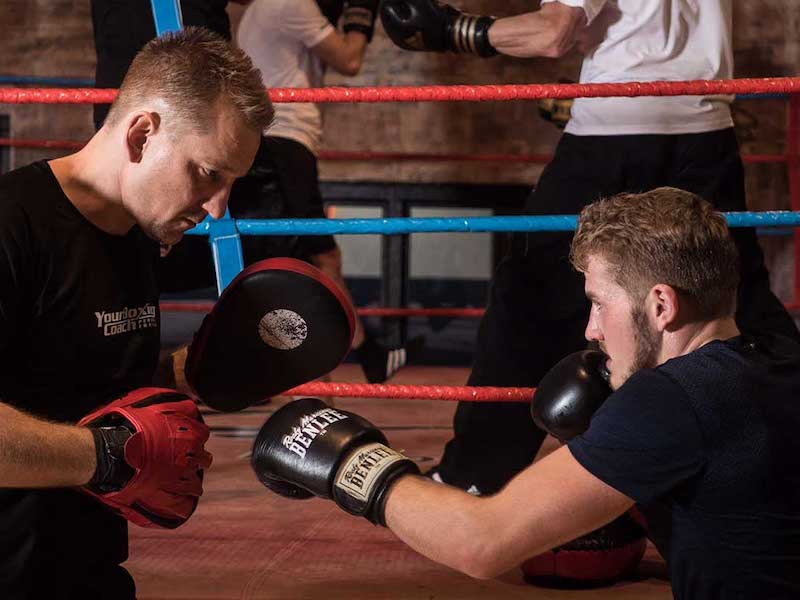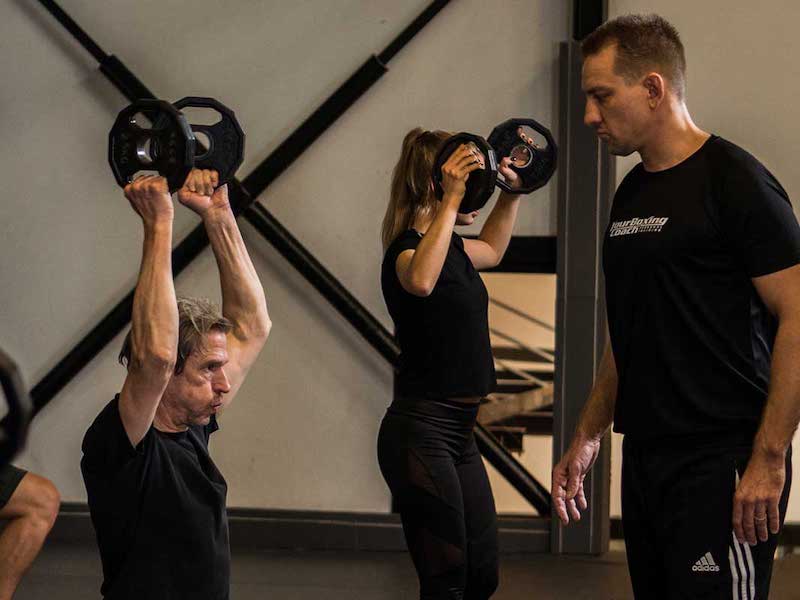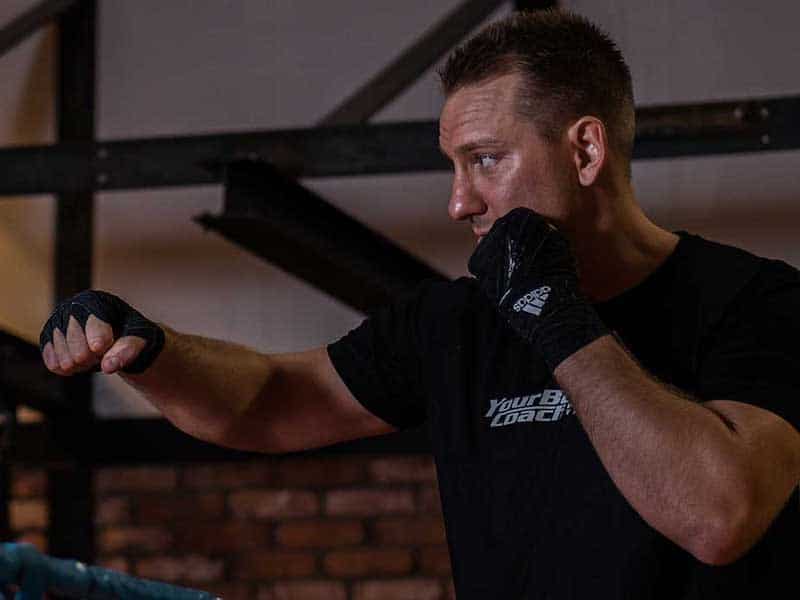 WHAT ARE THE ADVANTAGES OF BOXING TRAINING AS PART OF PERSONAL TRAINING?
My high-intensity personal training for boxing, fitness and combat sports will help you achieve:
physical and mental fitness
increased strength, stamina, mobility and coordination
the ability to execute punching and kicking techniques precisely and effectively
increased self-confidence, resulting in a new quality of life
an ability to identify and respond to risky situations
fresh wind in your sails when a change is long overdue
a strengthened cardiovascular system for a happy and healthy life
increased resistance – because what you are capable of in the ring can also be easily adapted to your life as a whole.