Functional Fitness & Athletic Training
Your Boxing Coach offers much more than just learning to box. As an experienced and licensed Fitness Coach Hamburg, I offer a large repertoire of functional athletic training to help you reach your long-term goals, complement your training, and provide a life quality boost. My many years of experience and my thirst for knowledge in the field of modern sports science ensure that we can confidently realize your sporting and health goals.
Sitting for long periods of time, the constant lowered view of mobile phone and monitor, stress, and a lack of exercise are responsible for a large part of the health problems of our time. In order to counteract this negative development in our increasingly fast-paced everyday working life, your Personal Fitness Trainer Hamburg will show you how to change your mind, optimize your movement patterns, protect your joints and ensure that all muscle groups work together.
Which BENEFITS DOES personal training with your Fitness Coach Hamburg BRING?
Through regular training based on sports science, we create a combination of the right mix of stress and recovery and essentially increase your physical performance. As a positive side effect, complaints and risk factors are prevented, diseases are avoided and treated, and your regeneration is improved.
A regular training with your Fitness Coach Hamburg leads to a longer-lasting feeling of balance, increased self-confidence, more energy at work and an increased psychological well-being.
Here is a brief overview of some long-term goals that we can achieve together in our Personal Training Fitness:
Motivation to maximize success in all situations in life
Weight loss
Weight gain
Full-body conditioning
Reduction of long-term damage to health
Improving life expectancy
Improving the quality of life
Self-defence
Self-perception
Rehabilitation
Strength and condition
Flexibility
Attitude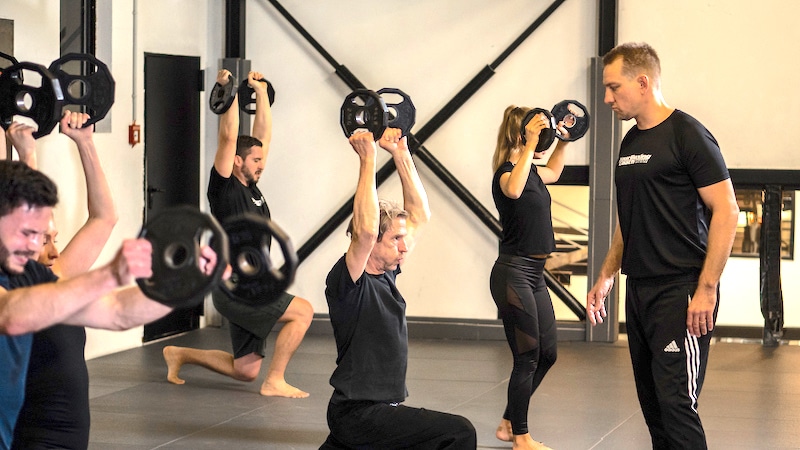 In order to achieve these goals, I PROVIDE you my Knowledge based on many years of experience as Fitness Trainer Hamburg within the framework of the following training concepts:
Kettlebell Workouts
HIT & HIIT Training
Boot Camp
Mobility Training
Stretching
Floor slides
Core Training
Equipment training
Animal Movement
Krav Maga (self-defense)
FITNESS COACH HAMBURG – FREE Trial Training*
Martial arts workouts as highly effective training for everyone – with your Fitness Coach Hamburg
The training of martial artists is mostly holistically structured and takes place in the competition area at the highest intensity. If you were facing a martial arts competition in the foreseeable future, you would certainly leave nothing to chance and try not to neglect any part of your body in order to outgrow yourself in competition. As Fitness Coach Hamburg I choose a training concept in which we train all basic motor skills and mental strength down to the smallest detail.
What takes martial artists to top performances is also of great importance for recreational athletes. Since training outside the professional field is usually subject to time restrictions, we use efficient methods that address several muscles or muscle groups in one movement at the same time. As Fitness Trainer Hamburg I create highly efficient and intensive workouts that will help you to explore your body's potential, move faster, and handle higher forces.
AS FITNESS TRAINER I SET NEW, VARIED TRAINING STIMULI WITH CREATIVE FUNCTIONAL TRAINING
Your Personal Fitness Coach offers you a creative mixture of traditional and modern training methods to prevent boredom from arising in the first place. My training sessions consist of a creative mix of functional training, which are effective and coordinative challenging to keep you on the ball. You will become more flexible in the short-term, more balanced, and noticeably more powerful.
As a personal fitness coach from Hamburg, I adapt the training to the individual requirements of my participants and develop exercises to go into everyday life with new energy and to carry out activities more easily and without complaints. If you suffer from back, neck, and shoulder pain, personal training with your Fitness Trainer Hamburg is an ideal way to reduce pressure and pain and increase strength. You will become stronger, develop better posture, and enjoy a new quality of life, which will give you drive and confidence for everyday life.
AS A PERSONAL TRAINER I KNOW: QUALITY BEFORE QUANTITY
It is not about superficially inflated muscles, but rather about strengthening your body from the depths. So, freely according to the motto: Quality instead of quantity! In martial arts, it is by far not enough to be just strong. It is much more important to include the biomechanics of the spine and the hips in order to be able to train the body from the center, efficiently to the extremities and thus to strengthen it permanently. My promise as Fitness Coach Hamburg: "The muscles will then come almost by themselves!
Well stretched is half won
A well-stretched and mobile body functions more sustainably and is of utmost importance as it minimizes the risk of injury and prevents posture and movement errors. As a fitness trainer in Hamburg, I all too often deal with clients who suffer from serious health problems due to incorrect posture or movement. Training on your own and without a concept can make this condition noticeably worse and in many cases even end up on the operating table.
For this reason, we always start a one-to-one lesson in our personal fitness training with exercises to promote mobility, then add stabilization and coordination exercises and combine these with strength or endurance training. Through a quickly executed high power development, martial artists promote the explosiveness, which is necessary for powerful dynamic movement sequences and leads to an activation of the central nervous system.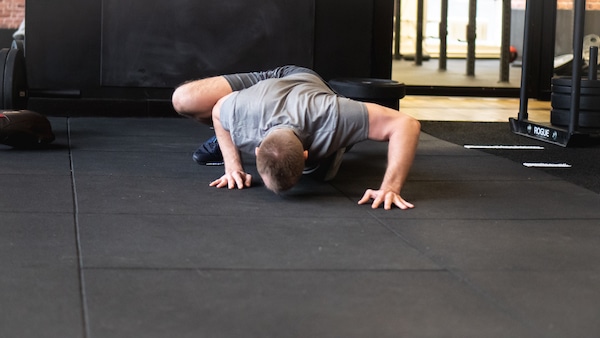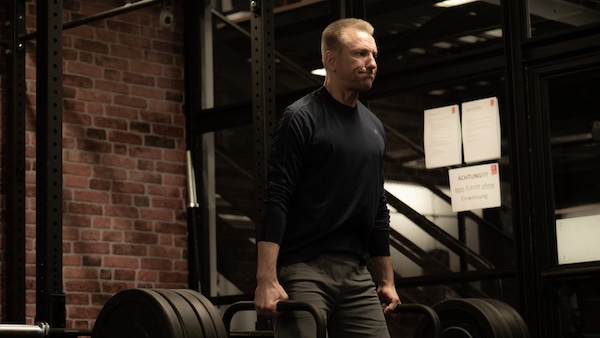 PERSONAL FITNESS TRAINING TAILORED TO YOUR NEEDS
Basically it can be said that a boxer, for example, has different training focuses and goals than a rower. Therefore a specific training adapted to the respective sport is of utmost importance. In our sports school, the Zanshin Dojo in Hamburg, we are well equipped to achieve different training goals on more than 2000 square meters. In our Functional Fitness Hall, we train together in different interval units to get fit all around and to prevent common diseases like back or shoulder pain.
On our HYROX Parkour, I support you as a personal fitness trainer Hamburg and certified HYROX coach to bring your strength, flexibility, endurance, speed and coordination to the maximum and, if you wish, of course, to prepare you for HYROX competitions.
Some experiences you do not have to make yourself!
Any extreme can be known to be bad for you. So I learned before my time as a professional fitness trainer Hamburg after years of hard training that my body was screaming for a break and my 'crowbar training concept' at that time just didn't work anymore. Of course, in all these years I had to fight with more or less severe injuries, but this time the diagnosis was 'slipped disc'. So what to do?
The doctors strongly advised me to refrain from Brazilian Jiu-Jitsu, as well as from Thai and kickboxing training, as both sports can have a stressful effect on the joints when practiced in extreme conditions without a sports science-based balancing training. So I changed my training completely and in the past years, I have acquired as much knowledge as possible about sports science and different training concepts. Thanks to this intelligent and tailor-made training concept I was able to avoid surgical intervention, regain my health, and continue on my way as a Fitness Trainer Hamburg.
I still love the high-intensity training. Therefore, as a professional fitness coach and boxing trainer, it gives me all the more pleasure today to protect my participants from such injuries or to help them in the context of rehabilitation in order to be able to live free of complaints in the long term.
BENEFIT FROM 25 YEARS EXPERIENCE OF A CERTIFICATED PERSONAL TRAINER IN HAMBURG. BRING YOUR LIFE QUALITY TO THE NEXT LEVEL WITH PROFESSIONAL BOXING OR FITNESS EXCERSICE.