It all started with my passion for Thai boxing. As a Muay Thai Personal trainer, I cover different types of boxing. Muay Thai is Thailand's national sport, which today is one of the hardest martial art in the world. The history of Muay Thai or Thai boxing is deeply rooted in the Thai tradition. This hard, incredibly dynamic, and at the same time, fascinating martial art demands everything from its opponents. For many Thais, Thai boxing is more than just a sport – it is a way of life and a way of earning a living. For active participants, Muay Thai offers a great training program to keep fit and to learn effective self-defense. For this reason, Thai Boxing Hamburg is increasingly frequented by women who do not want to participate in competitions.
The effectiveness of Muay Thai
Not everyone who practices Muay Thai automatically has to participate in competitions. The sport is extremely time-consuming and requires very good preparation in order to prevent injuries in the best possible way. However, the advantages of pure Muay Thai training are so manifold that actually everyone can benefit from it. A certain basic fitness, humility, and the will to learn is required. Due to the effectiveness and dominance of this fascinating fighting sport in the stand-up area, the demand for Muay Thai has truly exploded with the emergence of the Ultimate Fighting Championship (UFC) and the many other international MMA organizations. This is one of the reasons why Muay Thai training or Thai boxing training has become an integral part of Mixed Martial Arts (MMA). The efficiency of Muay Thai Hamburg enables especially women and young people to successfully defend themselves against attacks.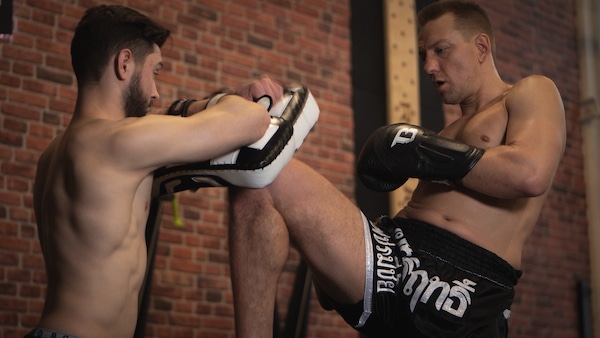 – Best fitness and healthy mind –
Your Boxing Coach is your Muay Thai Personal Trainer With more than 30 YeARS of Experience.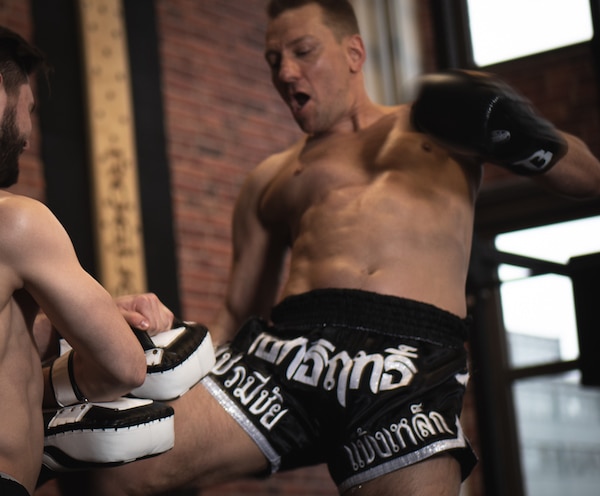 In the early 90s, at the age of about 15, a friend who already had experience in Thai boxing brought a VHS cassette with Muay Thai fights from the famous Lumpini Stadium (LINK) from Thailand. A Dutch boxer named Ramon Dekkers was the first foreigner to stand out for his dynamic and offensive fighting style. From that moment on I was immediately fascinated by Dekkers performance and his will to win. Dekkers was at that time still at the beginning of his career and quickly became a crowd favorite due to his numerous successes and his entertaining fighting style over the years. The eight-time Muay Thai World Champion was the first foreigner to receive the award "Muay Thai Fighter of the Year" and was voted one of the best Thai boxers ever to fight in Thailand by both Thais and foreigners. Over the years, my sporting idols have been a major motivation for me to want to practice this exciting sport for the rest of my life: Therefore, I have founded Thaiboxing Hamburg and my Muay Thai Personal Training as 'Your Boxing Coach'.
Thai Boxing Hamburg – Request Free Trial Session*
Your Boxing Coach is a Muay Thai personal trainer and group trainer with more than 30 years of active experience in Muay Thai and Kickboxing. As a certified kickboxing trainer of the World Association of Kickboxing Organizations (WAKO), it is my goal to show you the art of Muay Thai and teach you the large repertoire of techniques. Until today I have supported various world champions and internationally successful kick and Thai boxers in their preparation for competitions and I still take every opportunity to actively train with them and their coaching staff to enhance my personal skill set.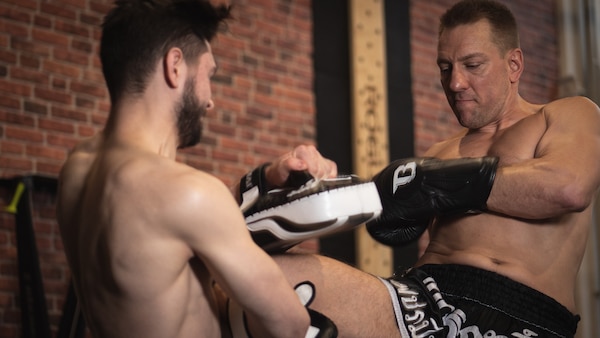 A short excursion into the history of Muay Thai
Muay Thai is called the art of the eight limbs. In contrast to western boxing, this martial art allows for punches, kicks, elbows, knees, and clinching. This means the use of all extremities with their eight points of contact. Muay Thai is derived from the older fighting art called Muay Boran, which was developed on the battlefields. Due to its complexity and the use of different weapons, it goes far beyond the techniques of today's Muay Thai. Though the exact origin of Muay Thai is unknown, historians agree the tradition of Muay Thai is closely connected to the history of Thailand, which can be dated back about a thousand years.
The first great upswing of Muay Thai as a sport took place in 1584 under King Naresuan, at a time that has gone down in history as the Ayuddhaya period.
Thai boxing became the favourite sport and pastime of the people, the army and the king, which is why the sport is also called 'sport of the kings' in Thailand. To this day, the royal military of Thailand is taught in Muay Thai training as a close combat technique.
Historical sources show that even in earlier times people from all walks of life flocked to the training camps and were interested in Muay Thai Personal Training. Regardless of age or social class, everyone had the goal to learn Muay Thai. Every village staged its prize fights and had its own champions. The betting tradition is deeply rooted in the sport and even today large sums of money are bet on the outcome of the fights. Every fight has always grown from a sporting event to a competition of local pride.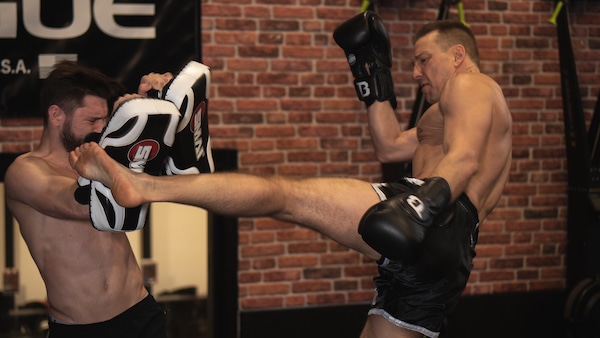 Thai Boxing Hamburg – Experience a new body awareness and benefit from unimagined energy
Which techniques are taught in Muay Thai Personal Training?
The Muay Thai Personal Training is the most effective workout that Thaiboxing Hamburg has to offer. This fighting style is extremely variable and thrives on fast punch and kick combinations as well as on the clinch, the wrestling while standing. The training at Muay Thai Hamburg trains the muscles of all body regions and leads to increased strength, endurance, flexibility, coordination, and improvement of balance after a short time.
Training goals in Personal Thai boxing
As training goals of the Thaiboxing private training serve:
Strength endurance
Explosivity
Mobility
Coordination
Speed
Stability
and flexibility, which is the focus of every Muay Thai Personal Training.
Due to its high intensity, private Thai boxing training is very well suited to increase the physical abilities, because even a short Muay Thai training has similar results as a long endurance run or swimming. A Thaiboxing private training over a longer period of time has effects on the oxygen capacity in the blood and leads to an economization of movement sequences. Since the calorie consumption of Muay Thai Hamburg is correspondingly high, Muay Thai Personal Training is ideal for losing weight. Not to forget the self-defense aspect, which is why Thai boxing private training is also ideal for women and young people who are interested in a particularly effective way of self-defense.
The Muay Thai training with Your Boxing Coach consists of partner exercises, working on the claw, and the sandbag, where I pay attention to the correct execution of the techniques and at the same time spur you on to best performances.
No matter if you want to participate in a Personal Training Kickboxing or a Muay Thai Personal Training – achieving your health and sportive goals is my highest priority. During our private training, I motivate you during the last repetitions and do everything to ensure that the fun factor in our Muay Thai training is not neglected. And at the same time, your personal trainer costs will be kept within an absolutely green range.
BENEFIT FROM 30 YEARS EXPERIENCE OF A CERTIFICATED PERSONAL TRAINER IN HAMBURG. BRING YOUR LIFE QUALITY TO THE NEXT LEVEL WITH PROFESSIONAL BOXING OR FITNESS EXCERSICE.